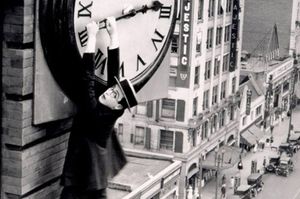 THE DETAILS:
Safety Last (1923) - Feature Movie with Live Orchestra 
Thu, Jan 13, 2022 @ 7:00PM 
Journey Downtown, 308 Main Street, Vacaville, CA.
Tickets, both Streaming and in-person available HERE.

Yes, he's hanging from a clock face in this outlandishly iconic image that defines the fun of SAFETY LAST!
Probably one of the best comedies of the silent era, Harold Lloyd shows off his skills as a physical comedian with seemingly death-defying stunts as he plays a young store clerk out to impress his girlfriend. Things don't go quite as planned, and we're brought into a world of hilarity and surprises.
The film was first presented in 1923 to stunned audiences around the world. The Grand Feature Film Orchestra will perform Safety Last in its entirety with a live orchestral score as we prepare for the movie's 100th anniversary. In addition, the orchestra will premiere its newly-built steam-powered sound effects machine for this epic occasion!