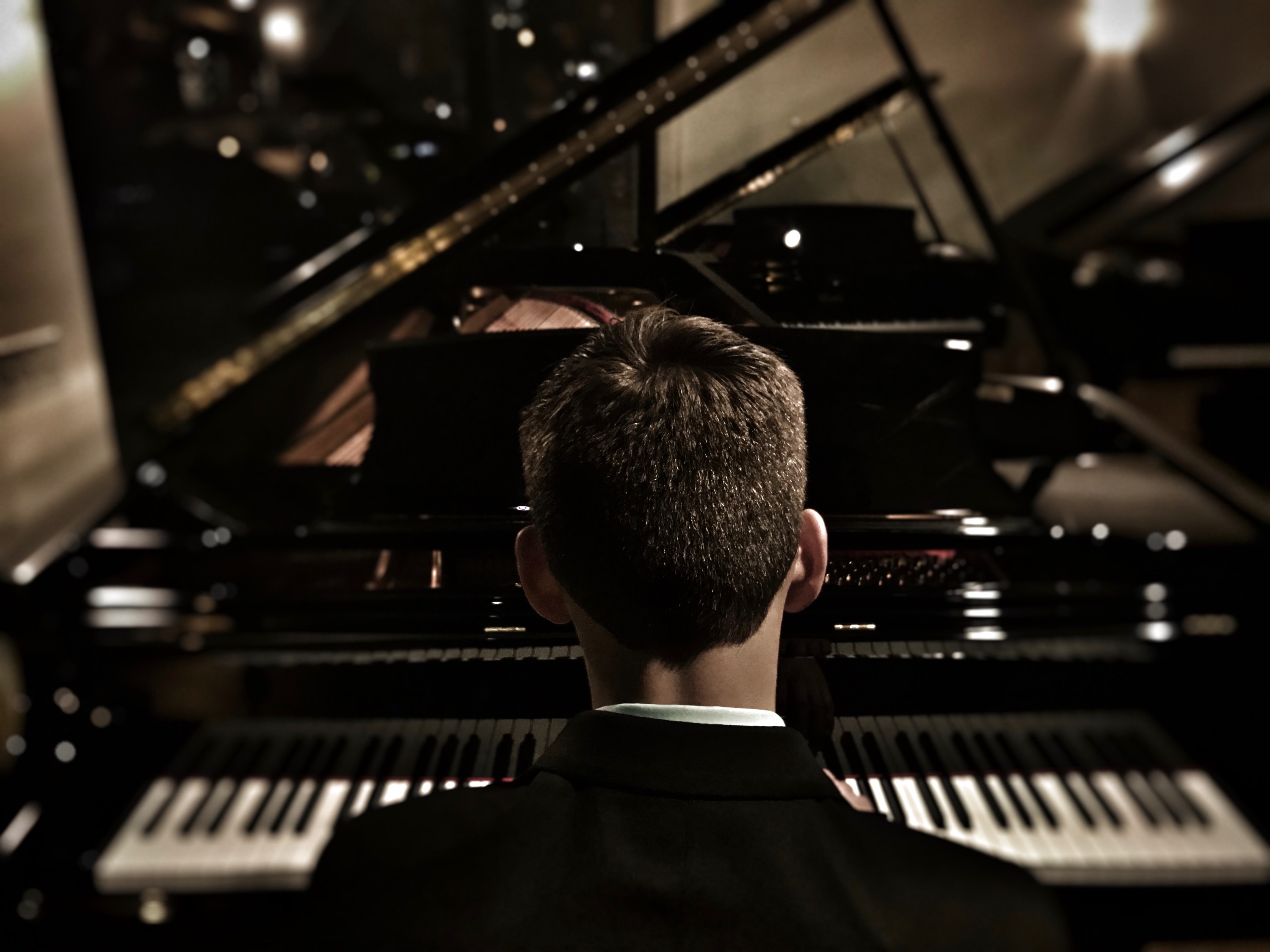 Compose/performer, Evan Losoya at the piano

Before our last orchestra rehearsal, I had a bit of time to ask a few questions to share with the orchestra and fans.
GFFO: What do you like about film composition?
Evan Losoya: I think it's a refreshing opportunity to compose for film. When I am working on stand-alone compositions, I often seek inspiration from extramusical sources. With film music, I am guided by what happens on the screen. The musical content comes easier for me when I have something to look at or react to. I also like the challenge of timing each scene to the music -- sometimes, I have to come up with ways to extend the music by just a couple more bars to fit the duration of the scene.
GFFO: Do you have any thoughts about Buster Keaton and his movies?
Evan: After working on two of his movies, I can say that Keaton was extremely dedicated to pushing the limits of physical comedy. Even with his most death-defying stunts, he still managed to keep his famous 'stone face.' It's amazing how effortless he made it seem despite the fact that he broke his neck during the railroad water tank scene in Sherlock Jr.
GFFO: Why is it important for events like the California Festival to support new and innovative composers?
Evan: Composers rely on these kinds of opportunities for their music to be heard. There is a whole sea of composers who are active in the contemporary music scene today. We need this kind of support to help motivate us to keep going with our art. It is also important to note that trends in classical music change very quickly. Festivals bring to light musical innovation.
GFFO: Do you have any thoughts about the GFFO and the Nov 19th, 2:00 pm performance at Journey Downtown Theater - Vacaville?
Evan: Having attended past GFFO performances, I know it's going to be a fun show. The members have tackled some seriously difficult music in the past so I'm certain they will do great on Sunday. With that said, I'm very much looking forward to coming back to Vacaville for this performance.
Evan, We're proud to be able to present this amazing score with the movie for the first time!
Journey Downtown Theater
308 Main Street – Vacaville