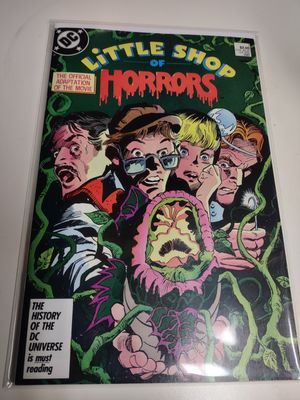 The story of the carnivorous terror in a flower pot has become both an icon and an inspiration for artists for over 60 years! 
THE LITTLE SHOP OF HORRORS, became a famous New York off-Broadway award-winning hit musical still playing today? the inspired stage play is based on the original movie with added musical numbers and a few story tweaks. 
Guess what? It was even made into a DC comic book back in 1987! We'll have a collector's copy on display at the concert and a special surprise is planned. Don't miss it!
You don't have to travel across the country to get your fix of vicious vegetation!

The original movie that started it all will be shown with a LIVE orchestra here in Vacaville! The Grand Feature Film Orchestra will perform Fred Katz's original score LIVE with the movie at The Journey Downtown Theater 308 Main Street -- Vacaville. CA.
Sunday, May 15th at 4:00 pm (LIVE in-person or LIVE streaming)!