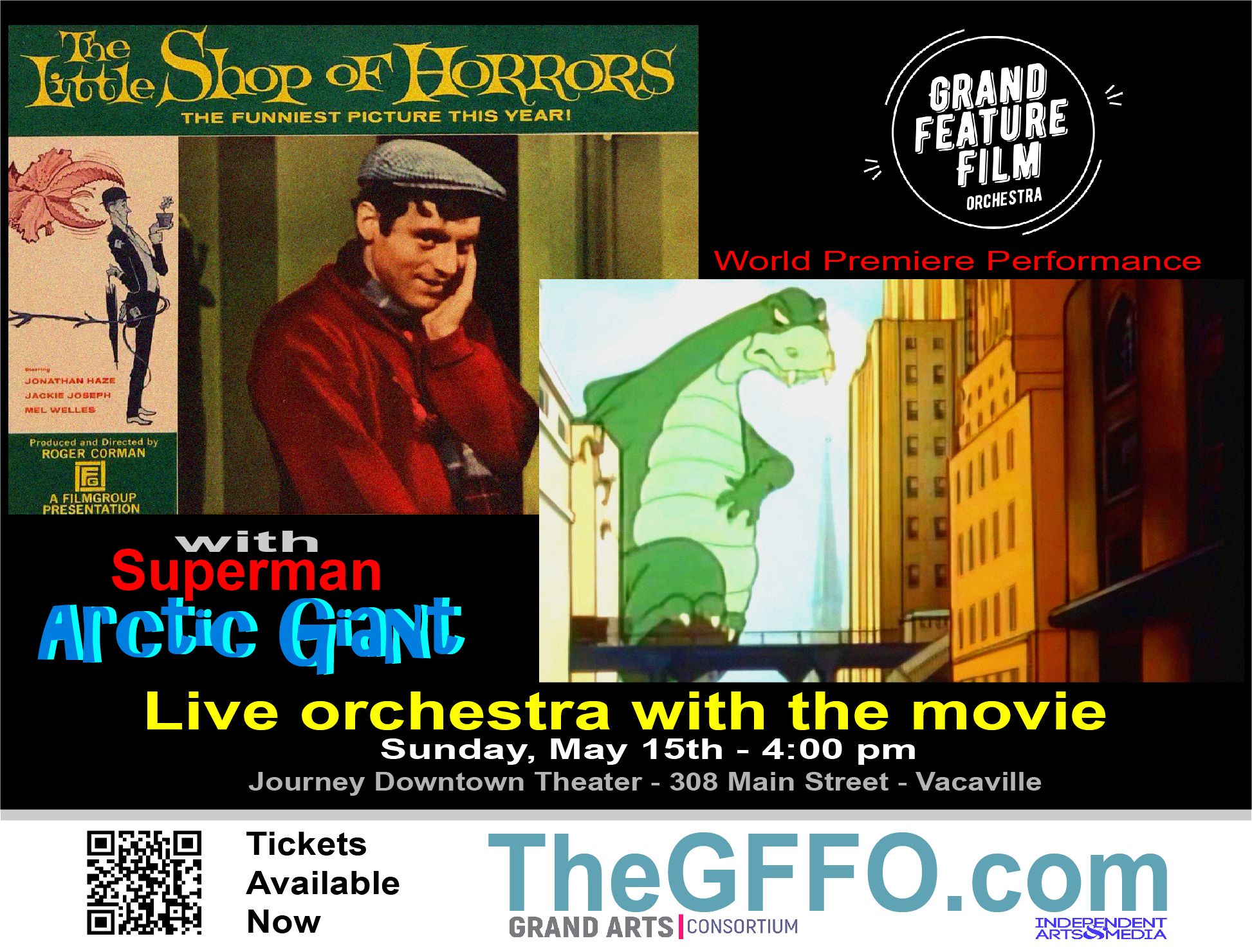 Concert Program:
The Grand Feature Film Orchestra performing LIVE film scores with the movies

SUPERMAN: ARCTIC GIANTS (Animated Featurette) - musical score by Sammy Timberg (1942)
The GFFO is dedicated to studying, reconstructing, and performing historic cinematic music. Sometimes this includes The Fleischer brothers' classic Superman masterpieces that shaped the golden age of animation. Even Disney owes many of its techniques to the groundbreaking duo of Dave and Max Fleischer. The famous composer, Sammy Timberg, wrote the iconic score to these short Technicolor gems in 1942.
Story:
When a team of scientists uncovers a prehistoric dinosaur, they bring it to the united states to display at the Museum of Natural Science. Unfortunately, a malfunction in the refrigeration unit brings the arctic giant to life with devastating consequences. Can Superman save the day?
LITTLE SHOP OF HORRORS (Original Comedy classic by Roger Corman)- musical score by Fred Katz (1960) 
Famously shot in just two days, this classic is a testament to Corman's ingenuity and effortless creativity! It also boasts the first significant role by the upcoming movie star, Jack Nicholson!
Story: 
A hapless young flower shop employee stumbles upon an unusual and mysterious plant that promises to make him famous but at a high price.


The concert will feature the live performance of SUPERMAN: ARCTIC GIANT
along with LITTLE SHOP OF HORRORS
BOTH are WORLD PREMIERES!
Sunday, May 15, 4:00 pm at Journey Downtown Theater.
Tickets available now