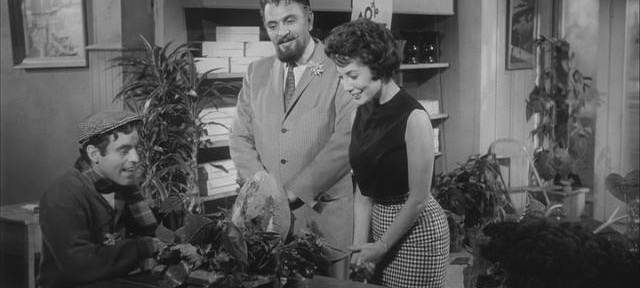 After the successful performance of Harrold Lloyd's Safety Last, The Grand Feature Film Orchestra sets out for a world premiere to celebrate a Korman classic with a musical score by Fred Katz. This is a first in history!
Details
The Grand Feature Film Orchestra will perform the original Fred Katz jazz score LIVE with the movie and SUPERMAN – ARCTIC GIANT orchestrated by Evan Losoya on May 15th at 3:00 pm at Journey Downtown Theater. 
Tickets (both in-person and live-streamed) are Available Now - Click Here
When you think of Little Shop of Horrors, you might be thinking of the highly successful Off-Broadway stage musical or the 1980s film adaptation starring Steve Martin, John Candy, and Bill Murray. But, did you know that it began long before that?
Little Shop of Horrors started as a sly low-budget film from 1960 that slowly crossed into legendary cult favorite territory. I doubt anyone would have guessed its future at the time. It was shot in just two days on sets borrowed from other productions. 16 mm black and white stock was the low-cost film of choice. And flat lighting made it possible to use multiple cameras to save money and get the production in the can before their 48 hours of the actors' paid time was up. 
Despite its low budget, it's a good movie, and its director is the reason. 
Director Roger Corman was the king of B movies. His reputation for filming everything quickly and on the cheap led to a prolific catalog of profitable midnight matinee films with names like ATTACK OF THE GIANT LEECHES, THE WASP WOMEN, ATTACK OF THE CRAB MONSTERS, and, of course, THE LITTLE SHOP OF HORRORS. So good was the film and concept that it sparked a successful Off-Broadway musical, a Saturday morning animated TV series, and a high-budget feature remake in 1986. 
Movie Plot
Seymour Krelborn, a bumbling employee at a flower shop on Los Angeles' Skid Row, attempts to cross a Venus flytrap with a butterwort. The result is a new type of unusual plant that becomes very popular, ensuring the success of their humble store. The only problem is that it has a unique carnivorous nature that leads to murderous results! 
THE LITTLE SHOP OF HORRORS (1960) is a surprisingly charming and inventive dark comedy that might have you thinking differently about your house plants. In addition, the film boasts its own big-name actor. It features an early film role for a young Jack Nicholson as the enthusiastic dental patient.
Join us as we bring THE LITTLE SHOP OF HORRORS in its original rarely seen widescreen 1.85:1 aspect ratio and SUPERMAN episode 4 - ARCTIC GIANT as the featurette performed with the original musical score by THE GRAND FEATURE FILM ORCHESTRA.  
Orchestrations by Evan Losoya
Sunday, May 15th at 4:00 pm at Journey Downtown Theater
308 Main Street, Vacaville
Tickets (both in-person and live-streamed) are Available Now - Click Here