If you have a heart for learning/performing multimedia/film-music presentations, this may be the community orchestra you're looking for! 
For an appointment, hit the Online application form button above.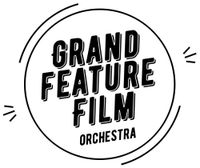 Frequently Asked Questions
Student Orchestra & Engineering Program
Is there a charge for student tuition or registration? 
There are no tuition, registration, or membership fees for this project.
The GFFO is non-profit and depends on grants and donations to cover our operating costs. We accept and appreciate financial contributions of any amount. However, we're always honored to be able to provide services for anyone who shares our commitment to musical excellence to the best of our ability. 
What is the time commitment for orchestra members?
Junior Student Members – These are members who are in grade school from 6th to 9th grade and generally meet Mondays and Wednesdays from 6 to 8 pm. In addition, a special all-day rehearsal is scheduled on one Saturday before the performance.
Advanced Student/Community Members – those in grades 10 to 12 or college (non-music major)/community members and those (any age) interested in volunteering to play in the orchestra. They generally commit to rehearsing once or twice weekly, depending on the student's schedule and experience level. In addition, a special all-day rehearsal is scheduled on one Saturday before the performance.

Effects/Music Engineering Team Members – Student engineering team members generally meet once or twice weekly, depending on skill level and projects.
What instruments can be played in the GFFO?
We accept woodwinds, brass, percussion, strings, keyboard, and experimental musical & sound effect instruments. Any instrument you've heard in a movie soundtrack will be a valuable asset to our projects. Click here for more details.

What if I play a rare, unique, or experimental instrument?
If you play an unusual, rare, or unique instrument or have constructed your own musical device, it may be used in the GFFO. If you've created or if you seek to create an experimental instrument, we love being a part of sound experimentation. Click here for more details.

Can I start as a beginner?
Yes, Beginners are welcome to join the Junior Feature Film Orchestra. It's an exciting program available for a wide range of musical instruments. It includes complete instruction and the opportunity to advance to the GFFO.

Is there an audition process to join?
There's no formal audition. Instead, members are placed based on their experience level and instrumentation needs. We have several options, from beginners with no experience to advanced musicians looking for an extra challenge. Members move up as their skills develop.
Does the GFFO have instruments to loan to students?
The student should have access to their own working instrument. We have access to certain instruments and equipment. Sometimes individuals donate instruments for GFFO use. In turn, we can loan this equipment to a student during their membership period. The availability of loaned instruments varies.

How do I join?
To start, hit the online application button below to schedule your first appointment.