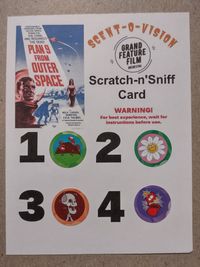 Don't Just See the Movie – Smell the Movie! 
PLAN 9 FROM OUTER SPACE is in SCENT-O-VISION 
You've seen movies in widescreen, and you've seen movies in 3D! You've seen movies in surround sound, but you've probably never experienced movies like this! 
What does it smell like of an alien spaceship? Find out on Sunday, January 29th at 2:00 pm as the GFFO performs PLAN NINE FROM OUTER SPACE 
Sure, you'll get the amazing experience of LIVE orchestra music with the movie! But there's more: 
PLAN 9 FROM OUTER SPACE will be featured in SCENT-O-VISION 
When you come to the theater, you'll be given your own SCENT-O-VISION CARD with your very own special scent scratcher device. 
When a special number slides across the screen, gently scrape the scratcher across the corresponding numbered icon on your SCENT-O-VISION CARD. 
Then take a whiff. Voila! You will be transported by smell to the action on the screen!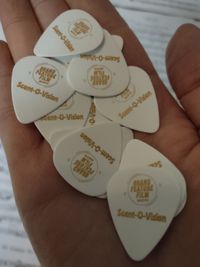 HISTORY OF MOVIE INVENTIVENESS -- 
You might think this is a bit crazy. However, since the first indoor movie theater in America opened in 1896, filmmakers have experimented with various creative ways to advance the cinematic arts! The first sound movie hit theaters in 1927. But, before that, the first color movie was believed to be created in 1902; the first 3D film was in 1915; and the first movie to employ smell hit a theater way back in 1916. 
MOVIES WITH A LIVE ORCHESTRA and in SCENT-O-VISION
It's a performance you won't forget!!
The Grand Feature Film Orchestra 
PLAN 9 FROM OUTER SPACE 
with TRIP TO THE MOON 
Sunday, January 29th at 2:00 pm