If you have a heart for learning multimedia/film-music presentations, this may be the community orchestra for you!
For an appointment, hit the Online application form button above.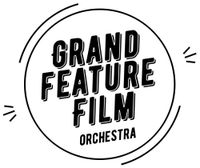 What instruments can be played in the GFFO?
We accept woodwinds, brass, percussion, strings, keyboard, both digital and acoustic. Just about any instrument that you've heard in a movie soundtrack will be a valuable asset to our projects.

What if I play a rare or unique instrument?
If you play an unusual, rare, or unique instrument or if you've created your own instrument, it may have a use in the GFFO with some restrictions.
Click here for more details.

Can I start as a beginner?
Yes, Beginners are welcome to join the Junior Feature Film Orchestra. It's an exciting program available for a wide range of musical instruments. It includes full instruction and the opportunity to advance to the GFFO.

Is there a charge for membership? 
There is a membership fee of $80/month.

Is there an audition process to join?
There's no formal audition. Instead, members are placed based on their experience level and instrumentation needs. We have several options, from beginners with no experience to advanced musicians looking for an extra challenge. Members move up as their skills develop.
How do I join?
To start, hit the online application button below to schedule your first appointment.